Queer Cinema for Palestine (Tunisia)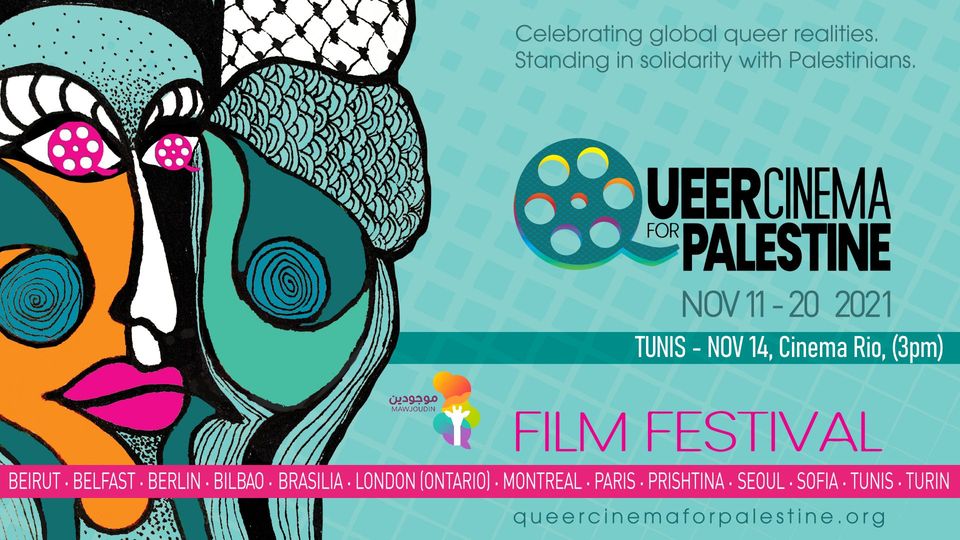 Détails de l'événement
Film screening at Cinema Rio, Tunis, Tunisia, 3:00pm
In Arabic with English subtitles
Screening of short movies, sharing stories of queer people from different countries of the global south (Palestine, Tunisia, Jordan, India, Lebanon), with a focus on the shared, similar struggles queer people go through under the oppression of society and laws. The screenings will be followed by a debate with the public about these thematic, the close realities and the intersection of Queer and Palestinian struggle.
Film program:
– À TRIBORD, JE VOMIS – TO STARBOARD, I VOMIT, Tarek Sardi, 2019, Tunisia, 7 min
About the film
Zarga, Dorra, and Mohammed find themselves after years of separation together, reunited in a club's toilet. Between betrayal and unspoken truths, the old classmates reveal their deepest secrets and taboos.
– WOMEN AND GIRLS, Cherien Dabis, 2013, Jordan, 14 min
About the film
An intimate portrait of three generations of women with deeply conflicting values, Not Another Word – set against the backdrop of Jordan's ongoing internet censorship debate – explores the idea that censorship starts at home.
– MARCO, Saleem Haddad, 2018, UK
Omar has been living in London for a decade. One evening, restless after another pleading voicemail from his mother, he invites over Marco, a Spanish student newly arrived in London, who's doing sex work to earn some extra cash. But when Marco arrives, Omar can't shake the feeling that something's not quite right about the young man. As their night together progresses truths are revealed, Omar discovers the lengths that Marco has gone to arrive in London.
– SISAK, Faraz Ansari, 2017, India, 15 min
About the film
Set in the fast-paced environs of the usually bustling Mumbai local train system, Sisak details a romance that develops slowly and intoxicatingly, nestled in the silences and quiet comforts of the end-of-day train journeys. A return to the unspoken, unsaid and universal expressions of love, on the path of subtlety and humanity, Sisak is the result of the belief that if love knows no bounds, it need not be bound with words, either. Billed as India's First Silent LGBTQ Love Story, Sisak is the first ever Indian film to win 59 International Awards – A milestone for Indian cinema set by a silent queer film.
The event is presented by The Initiative Mawjoudin for equality
Adresse de l'événement
Queer Cinema for Palestine (Tunisia)
Cinema Rio, Tunis, Tunisia