Terra Negra #5 w/ Atjazz [UK] & Anemoia [TN] at Wax Bar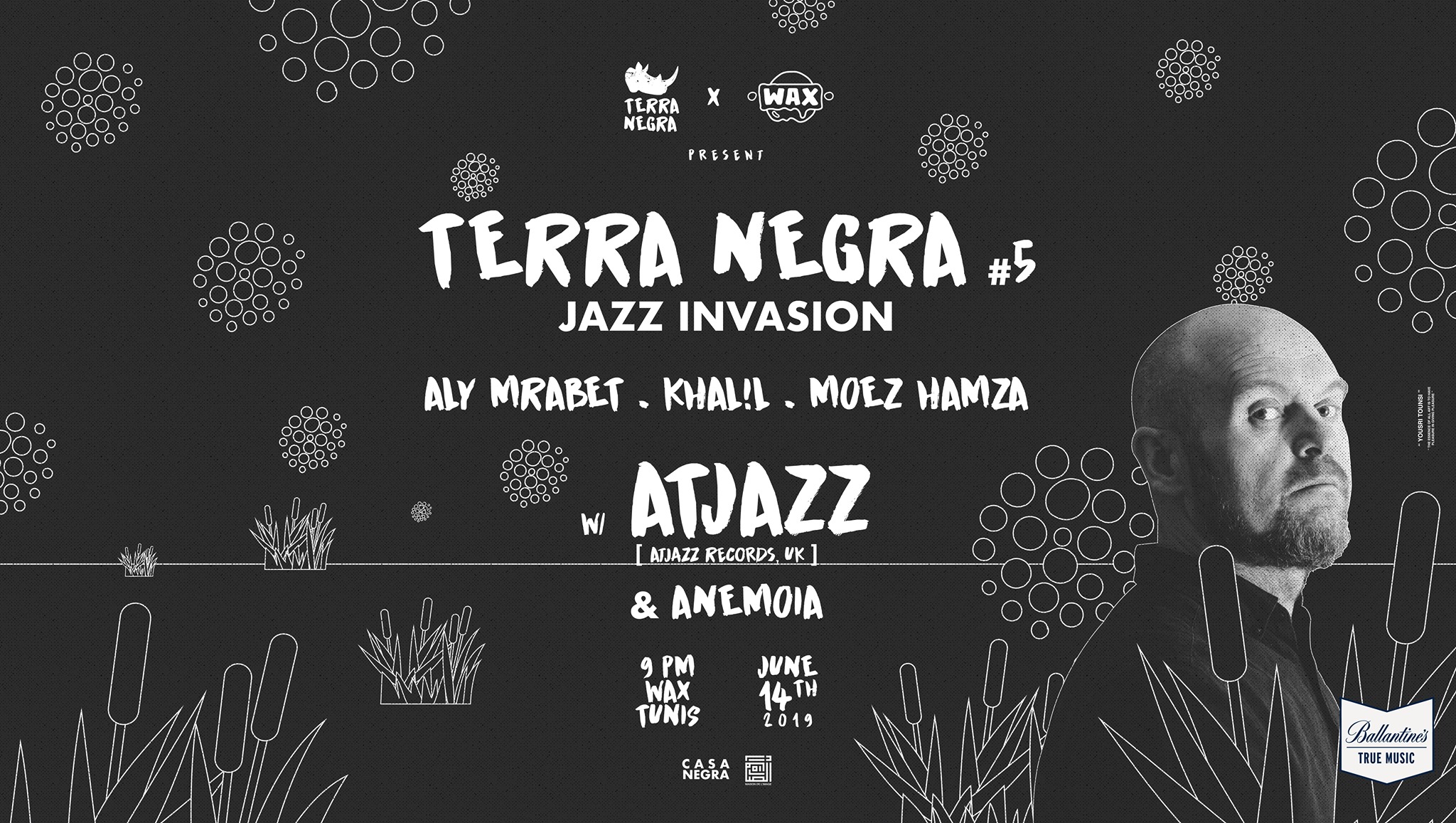 Détails de l'événement
????❣️????
???? Atjazz ⎧ Atjazz Record Company⎫UK ????????
???? Anemoia ⎧ KOLOK ⎫ TN ????????
???? Moez Hamza / KHALIL ANNABI / Aly Mrabet ⎧Terra Negra • TN⎫ TN ????????
???? WAX bar
????️ June 14th 2019
⏰ 9 PM —> 4 AM ????
???? Ballantine's #TrueMusic
???? Maison de l'Image
???? CASA NEGRA
???? Passion Pass
❛ Ticket Prices ❜
25 DT : At the Door with a gift / Before 11 PM
35 DT : At the Door / After 11 PM
Atjazz⎧ Atjazz Record Company⎫
Setting sail on a mammoth musical journey in 1995, Martin Iveson aka 'Atjazz' has become well known the world over for his creativity & constant delivery of well-crafted music. Showing no signs of slowing and continuing his musical journey through sound, stamping his assonant trademark on route!
From his misspent youth skateboarding the small towns of North-eastern England to running a successful independent record label, in-between producing and remixing for a wealth of talent around the world, 'Atjazz' has become synonymous with the highest levels of style, production and innovation in the independent dance-music world.
Anemoia ⎧ KOLOK ⎫
Morocco native Hichem Chlayah is the figure behind Anemoia. An artist that developed a passion for electronic music from an early age and that spent forging his talent in DJ platforms throughout Tunisia where he is based. This promising young talent aspires to share his message through music and his ability to create and express profound sentiments with captivating, hypnotic melodies and penetrating haunting emotions drawn from inspiration of his surroundings. His trademark sound encapsulates his oriental influences combined with a fusion of different genres of music. Destined for exciting things on the horizon…
Terra Negra • TN
We are Terra Negra • TN from Tunisia, a project held by Khalil Annabi, Moez Hamza and Aly Mrabet. Here, everything is about South. Travelling between Africa and Latin America, we will present each month an artist coming from the Afro-House scene and some new South American sounds.
We hosted Cee Elassaad, Fatoumata, Hazem Berrabah, Hyenah, JOSS, Astrid and more to come !
The series of events takes place at the WAX bar, known as the home of good sound followers. May the Rhinoceros's strength be with you!
Adresse de l'événement
Terra Negra #5 w/ Atjazz [UK] & Anemoia [TN] at Wax Bar
Complexe Trinidad - Gammarth, 2080 Gammarth